FDP-Fraser
The landlord's perspective on the housing crisis and rent caps in Bristol 2022.
Updated: Apr 12, 2022
Year after year Bristol is recognised in the news as being the most desirable place to live in the UK. But the level of demand combined with Covid stimulus on the housing market and now pressures on the cost of living are driving rental prices to unsustainable levels in the city.
Tenants in Bristol are calling on the government to fix the rental sector. By imposing rent caps. From a landlord's point of view, I'm certain this would push landlords out of the market, putting further strain on the housing supply.
Bristol Landlords are going to exit the BTL market in droves. But where are they going to go?
Let's face it, It's not a particularly enticing marketplace for landlords at the moment.


Landlords have been the punching bag scapegoats for the government's failure to build more properties and control the cost of living for too long.
We have been taxed, selectively licenced and subjected to eviction bans.
What other industry would still be going strong if customers were allowed to swerve paying with impunity and run up illegal bills with no consequence?
Any landlord worth his salt will be supporting tough penalties on those not providing good quality accommodation and meeting quality standards.
I don't think landlords anywhere want to offer poor quality accommodation. However, I can see a scenario where they can no longer afford to stay on top of issues as margins have declined.
I feel like all landlords should meet a higher standard, but licence fees are another speed camera scam. A hidden tax that should not be allowed. Please feel free to inspect our properties. But why should we fund this?
What do the figures say?
So I did a mini-experiment looking at my immediate locality in BS16. (Don't judge me)
These are over the course of the last 12 months and taken from the land registry via Property Data.
So based on an industry stand 36x rental affordability metric. The average earnings requirement to live in a 3-bed house in Downend is now £56,010. Before-tax, or living expenses. So let's call that £70K all in. I'm selling up and living in a mobile home. (Oh...There arent any).
So the average cost of the same house is £307,000. I think you would be lucky to find something for that. This is a rolling 6 monthly average to be fair.
So let's say your average person earns £56,010 (It actually £39,900) and they manage to save 10% a year. So £5610 a year. Given the fact everything is going up by 5.5% is rather unlikely.
They would need a 20% deposit of £61,400. It would take this person 10.94 years to save. By this time house prices would have doubled anyway.
So Landlords in the private rental sector is going to be around for some time.
https://www.theguardian.com/business/2022/mar/17/what-does-uk-interest-rate-rise-mean-savers-borrowers-mortgages-houses
https://www.theguardian.com/uk-news/2022/mar/23/spring-statement-2022-key-points-rishi-sunak-budget
So why is it so unappealing to be a landlord these days?
Admittedly this is a fairly sceptical example based on the worst-hit demographic. The accidental landlord. Paying 40% PAYE as an investment. The Section 24 tax has meant landlords pay more tax than they make a profit. No wonder they need more money to continue to offer this service to Bristol. Cheers Chancellor.
That doesn't factor in the hike in interest rates to 0.75% and inflation at 7.4%
https://www.theguardian.com/business/2022/mar/17/what-does-uk-interest-rate-rise-mean-savers-borrowers-mortgages-houses
https://www.theguardian.com/uk-news/2022/mar/23/spring-statement-2022-key-points-rishi-sunak-budget
This all assumes that nothing ever goes wrong by the way.
Well, that's just not how life works. Landlords are one new boiler away from impending doom.
And they really need that new boiler to bring down the eye-watering energy costs atm.
Ok so if you are buying in an LTD company the same basic example made £116 profit. But that is still not worth the risk of arrears, damage and the effort required to provide this necessary public service. The government rely on the private rental sector and beat us with the stick of shame at the same time.
https://www.thetimes.co.uk/money-mentor/article/which-energy-firms-have-collapsed/
https://www.bristol.gov.uk/newsroom/help-us-tackle-the-rent-crisis-in-bristol
https://www.bristolpost.co.uk/news/bristol-news/rent-cap-pilot-bristol-moves-6656803
Hopefully by now in this article, you are wanting to save some money. LOL
https://www.fdp-property.com/lettingcalculator
So what happens in other industries that are price capped?
Take the recent energy crisis as an example of this problem.
29 of our smallest energy suppliers have collapsed under pressure from rising wholesale prices.
Being forced to sell at a loss is not sustainable in any industry. The net outcome here is that the largest providers are bailed out and consolidate the market. Reducing competition and increasing prices and pressure on customers.
I predict the same will happen in the rental sector. Large corporate institutional investors will consolidate the market and dominate. We are seeing Smaller portfolio landlords look to exit meaning less available stock.
Only huge corporates will be able to compete.
This is all starting to sound quite familiar.
Supply-side issues....?


There just arent enough houses. FACT. We are only seeing 114 new rentals available in Bristol in a single month (March 2022). So there are 700,630 people in 2022 in Bristol and 114 rented places free this month. SERIOUSLY...
Only 600+Applications in Bs16 in the last 12 months is not really touching the sides.
Our mayor promised 2000 new homes a year. And we are not even achieving that figure.
https://www.bristolpost.co.uk/news/bristol-news/total-number-new-homes-built-5013548
Not to be cynical here but I think that this might have something to do with the problem?
WE DO NOT HAVE ENOUGH HOUSES. No wonder prices are going up.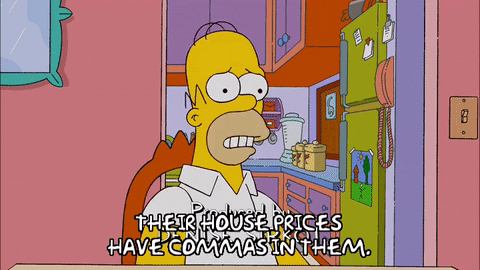 Let's build a wall from the invasion Non-Bristolians, (oh I'm one of them) Coming to our green and pleasant land from bloody London. Selling that palatial 1 bed flat in Peckham and buying a 4-bed mansion.
So let's blame landlords for the crisis. And not the government. And charge landlords more money. So we don't have to come up with a solution.
Problem solved.
So landlords are leaving then. But where are we going to go?
For the purpose of this article, I'm not including the pub. Which would be my first choice after the miserable news above.
Landlords are clearly under pressure to achieve higher returns if rent caps will further limit profitability.
And in the current market, this will mean either shared accommodation HMO property models or Serviced accommodation.
Article 4 has made it much harder to licence an HMO, And they are deeply unpopular with the neighbours. Nobody wants to live next door to shared housing. Even though there is a desperate need for quality housing HMO options.
And I feel it's not going to be long before we see bans on Air BNB and short-stay operators in the city. Whether these are limited like London or licenced.
Property investors will continue to innovate and follow the money. I'm just not sure where next...
It's perfectly ok to build a whopping great Moxy Hotel in the centre...Just don't take our houses.....
For me, the future will be building. I'm fed up with being the Pariah...I will build my way to redemption.